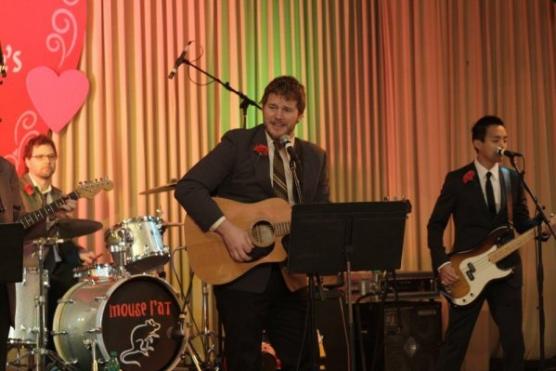 Since we've reached Valentine's Day, perhaps it's time for me to evaluate my relationship with
Parks and Recreation
. When it premiered last spring, the non-spin-off spin-off of
The Office
felt too derivative and familiar to really strike any lasting impressions. Making Amy Poehler's Leslie Knope a distaff version of Michael Scott and surrounding her with bizarro world versions of our favorite Dunder-Mifflinites (Rashida Jones as Faux Pam, Paul Schneider as Faux Jim, Aziz Ansari as Faux Dwight, Aubrey Plaza as Faux Kelly/Erin) wasn't going to work for the long haul.
To creator Michael Schur's credit, he spent the summer retooling and focusing
Parks and Recreation
and the early episodes in season two were top-notch; better than even what has become a potentially teetering-on-the-brink season of
The Office
.
(About last night's episode of
The Office
: I
liked
it, but you can't help but sense it was a huge missed opportunity. Having Jim become the sole manager of Dunder-Mifflin while Michael made more money as a salesman could have been fertile ground for comedy, at least for a few episodes. Think: Michael Scott Paper Company. Now with Jim back as a salesman and Michael managing, it feels like so many of the early season episodes were for naught. Like
Chuck
,
The Office
is in danger of spinning its wheels
too
much; there needs to be more consequences to the actions. That said, any time an episode can offer so much Erin, Andy and Kelly goodness, it's fine by me. I'll say it: Erin and Andy are as adorable together as Jim and Pam.)
Anyway!
Unfortunately, after that initial burst out of the gate, I felt that
Parks and Recreation
stumbled badly. While the chattering class of lemming critics (Alan Sepinwall, Maureen Ryan and their ilk) kept proclaiming from mountains on high that
Parks and Recreation
was one of the best shows on television, I was seeing ridiculously unbelievable episodes that were nearly devoid of laughs. Perhaps it's because I don't worship at the mustache of Nick Offerman, but the show was always perilously close to dropping off my DVR list; even through last week, I consistently found that it ran a distant fourth to the other NBC Thursday night comedies.
But then an episode like "Galentine's Day" happened and my faith was restored. At least momentarily. Sweet, thoughtful, funny and a showcase for what has become a ridiculously good cast—of everyone, it's clear that Chris Pratt is my favorite; there isn't a funnier character on television right now than his Andy—
Parks and Recreation
made an episode that would be worthy of being mentioned in the same breath as the early episodes of
The Office
. For a comedy about manners and social interactions and unrequited love, that is the highest compliment I can think of paying.
Bonus: before shuffling off, I have to mention how poor this week's episode of
Community
was. Perhaps that was because it featured an overload of Ken Jeong (painfully unfunny at this point), but ouch. I got maybe one or two laughs out of the entire episode. Here's a problem I see with
Community
: Dan Harmon has fallen in love—deservedly—with his ensemble and, as a result, has started to ignore Joel McHale. I've read many interviews where Harmon has said they've tried to both tone down some of McHale's inner smarminess, while simultaneously playing up the rest of the cast. Mistake.
Community
is funniest when McHale's Jeff Winger is acting like a huge dickhead. That strategy is akin to Ivan Reitman deciding during
Stripes
that since the rest of the cast was so good, John Laroquette should be given as many lines as Bill Murray. This is a series with great potential... just so long as they don't screw up what allowed it to get that great potential in the first place.